...of the Channel!
Found your site today via rubberrat's post in our german forum.
My wife Janina and myself (Joerg) have been Truck Camping (as the americans like to call it) since 2009. Our first demountable camper was a 2001 Lance 915 which we sold in 2011. Then we had a new Outfitter Apex 8 Popup Camper shipped to Hamburg/Germany from Colorado. The camper is called "Britney, the popup princess". After all, her predecessor was the "Bog Queen".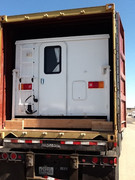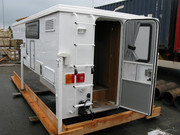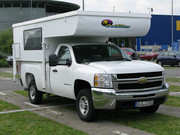 The demountable is on a 2008 Chevy Silverado 2500HD, single cab, long bed truck. With no 4x4, but running on LPG/propane.
Here are some pictures of Britney:
https://goo.gl/photos/1KURMEFcbGpUWrkK7
We live in the Saarland in SW Germany, about an hour away from Luxembourg and within walking distance from the french border. Most of our trips are local weekend trips within a range of 300km or less. Once or twice a year we go on longer vacations. This year's main trip will take us to a demountable meet in northern Germany, not to far from Kiel. That is about as far from here as the Mediterranean Sea...
Thanks for reading,
*6
Edit: Link modified - maybe this one works...