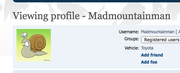 contact Rich; 07968077182

Following much deliberation and soul searching, along with another attempt to take my wife camping last week, I have decided to sell my Demountable.
It is a 2006 S.Karosser EC6 L-2 C in absolutely stunning condition and is mounted onto a 2015 Toyota Hilux Invincible 3.0L Manual.
The camper has loads of extra's fitted, which i've listed below.
EC6 L-2 C +
Roof Rack and Ladder
Solar Panel/Charging System & Battery
Skylight above bed
Radio/CD Player
Extra Windows - All double glazed
External Shower Point
Omnistor Awning
Water Level Gauges
Heated Waste Water Tank
Clock/Timer
Lengthways Bed Option
If you check the S.Karosser website, you will see that the standard specification is very high, making these campers one of the best on the market. They are extremely well built, with quality fixtures and fittings, including Alde Hot Water and Central Heating, 2 Ring Burner and Stainless Sink, Flushing Cassette Toilet & Shower Cubicle, along with Seitz Windows with Insect Screens and Blinds, Wardrobe, Cupboards and Drawers. There is an External Gas Locker, with room for 2 x 6Kg Bottles.
I bought the Hilux from my local Toyota Dealer, which was their demonstrator. It has 18,000 miles and a full service history with the supplying dealer. It has full leather inside, black with grey trims and black alloy wheels. It has a Toyota Factory Alarm System, Satnav and Catlock fitted as optional extra's. It was registered in December 2015, so is still covered by warranty. It also has the Chrome Pack, Side Running Bars, Factory Tow Bar & Electrics and the Hilux Door Footplates.
To aid the fitting and running of the camper on this truck, I have fitted extra air bags to assist the rear suspension springs, with the control unit fitted in the cab, and have four eyelets fitted to the truck bed, which are mounted directly through to the chassis. Along with these extra's are a Bedrug lined truck bed and Mountain Top.
This is one of the best campers i've seen and been the proud owner of, which is why i've been very hesitant in selling it. The original invoice for the camper is £37,000 and a new Hilux in similar spec will also cost you circa £37,000.
I am looking to sell this outfit for £34.750 with no VAT to pay. I suggest potential purchasers come and view my camper to see how it is close up, as you'll be hard pushed to find one as good as this, with a well looked after, low mileage, high specification truck as well.
Genuine interest only please and i'm happy to give the new owner a full hands on guide to how everything works in the camper. Both camper and truck have two sets of keys, as well as the truck having it's master key. All documents are included for both camper and truck. I am happy to take the potential purchaser out in the truck so they can see how it drives but, unless you can prove you have fully comprehensive insurance to drive my truck or I have full payment, I am unable to allow a personal test drive.
The truck and camper are based near Exeter.