It's often said that the journey is more important than the arrival at the destination. This was certainly true for our summer 2017 trip in our Land Rover Defender with Northstar truck camper up through Scandinavia to Nordkapp, the most northerly point on mainland Europe. Nordkapp itself turned out to be a windy, cold, God forsaken place!
Our journey had started with a trip from the south of England to the Dover ferry terminal as the Channel Tunnel, our preferred crossing method, was fully booked. On arrival in France we headed to a camperstop in Bergues, a lovely old walled town south of Dunkirk, for our first night.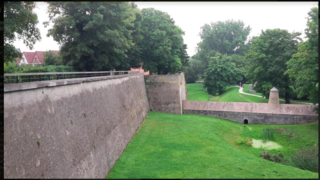 Bergues old walled town
The following morning we headed north and followed the coastline first through Belgium and then the Netherlands using the Westerchelde toll tunnel to avoid the need to pass through congested Antwerp to get to our second night at a beach campsite at Domburg.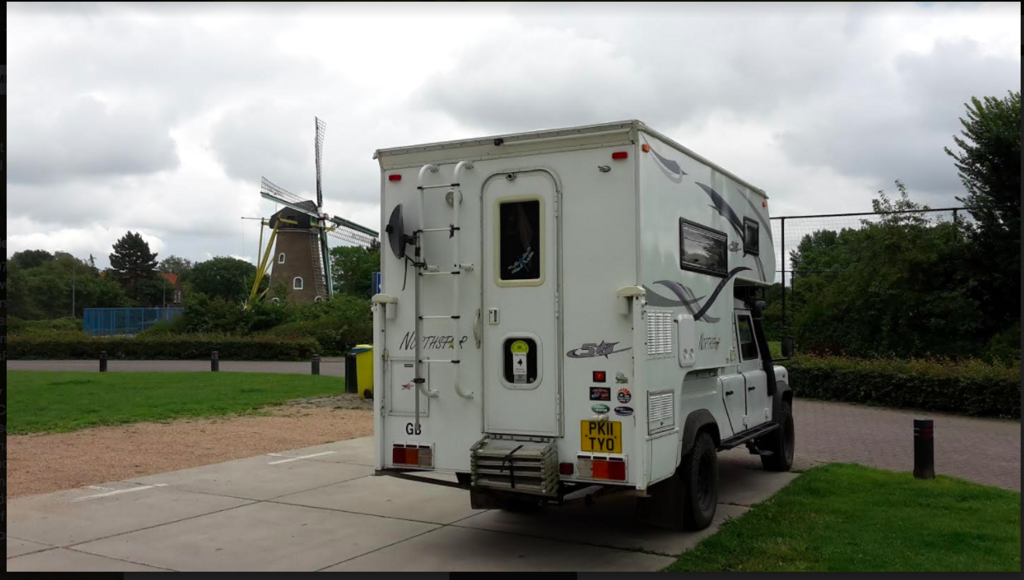 Domburg windmill
Next day we skirted Rotterdam and Amsterdam and crossed the Ijsselmeer causeway to our night stop at the lovely historic port of Harlingen.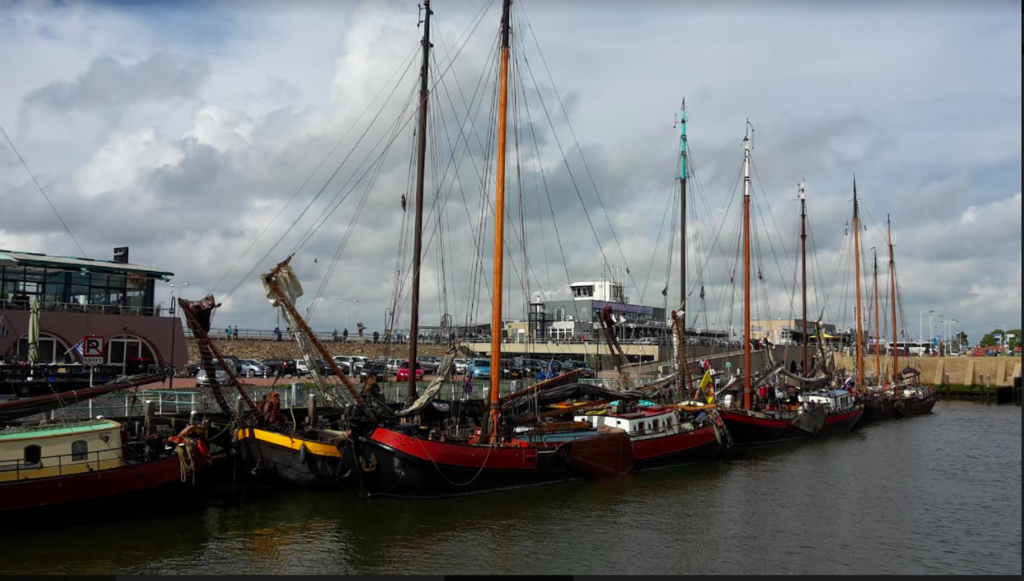 Sailing barges in Harlingen port
We crossed the border into Germany east of Groningen and spent the following night in a camperstop in Sande just south of Wilhelmshaven. Our hoped for views over the sea were unfortunately thwarted by a flood defence barrier which had the secondary issue of being covered in sheep – Anya, our English springer spaniel, therefore had to stay on the lead as she can't always be trusted not to give chase. The following day we crossed the Elbe River and found a car park with adjacent restaurant in Kollmar.
Up to now we had only travelled through countries that we had previously visited in the camper but the following day we crossed into Denmark and made our way to a camperstop on the Baltic coast at Aarosund overlooking the island of Aro.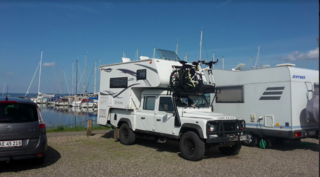 Arosund aire
As we were somewhere new we had a relatively short travelling day the next and did some sight-seeing ending up in a dedicated motorhome area of a supermarket car park in Aarup. The next day we achieved one of our trip objectives when we crossed into Sweden via the Oresund bridge.
"The Bridge" between Copenhagen and Malmo has been made famous by the Scandinavian dramas of the same name.
Oresund bridge
We parked up in a camperstop on a beach to the south with a superb view of the bridge and had a lovely cycle ride around the area.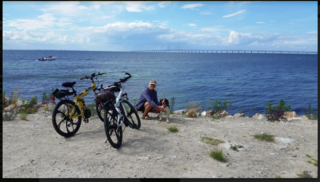 The bridge from the camperstop
Next day we initially headed northwest towards Norway but as there was a poor weather forecast for the west coast we decided to stay in Sweden and head north on the E4 alongside the Baltic. We stopped for the night in the town of Berg on the Gota Canal, designed by British canal engineer Thomas Telford in the early 1800's. There are some impressive locks connecting lakes and rivers which created a complex route for large vessels between Gothenburg and Stockholm.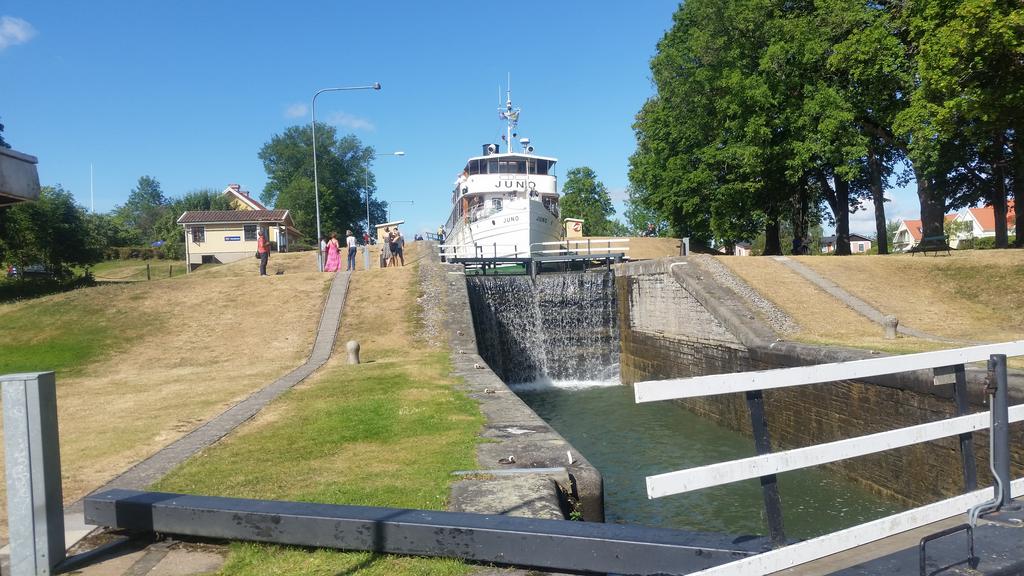 Gota canal at Berg
Once we were north of Stockholm we really started clocking up the miles. Travelling on the main E4 highway and passing through rather boring forests we were only stopping for meals and dog walks. I was therefore keen to make our overnight stops as interesting as possible and Jan navigated us to a harbour camperstop at the correct distance on a headland near Vavd. This had nature trails for dog walking so was ideal!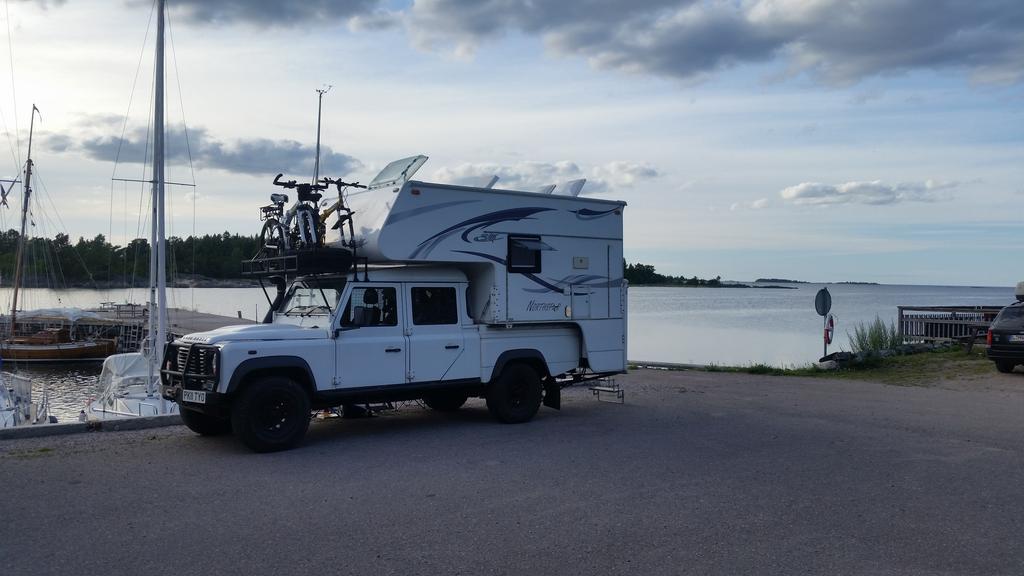 Harbourstop aire near Vavd
Re-entering the E4 at Gavle we pressed on to just north of Harnosand where we turned off the main road onto an unsealed gravel track before rejoing the tarmac to a camperstop near the village of Omne for the night, parking amongst other campers near a lake – again with really nice walks in the woods. By now we were noticing that the evenings were significantly lighter and even at 11pm it wasn't really getting dark.
Next day we were soon back on the E4 and our next overnight stop was at Javre. This was at a large camperstop by a small harbour with an interesting lighthouse. There were some nice walks through the woods near to the coast.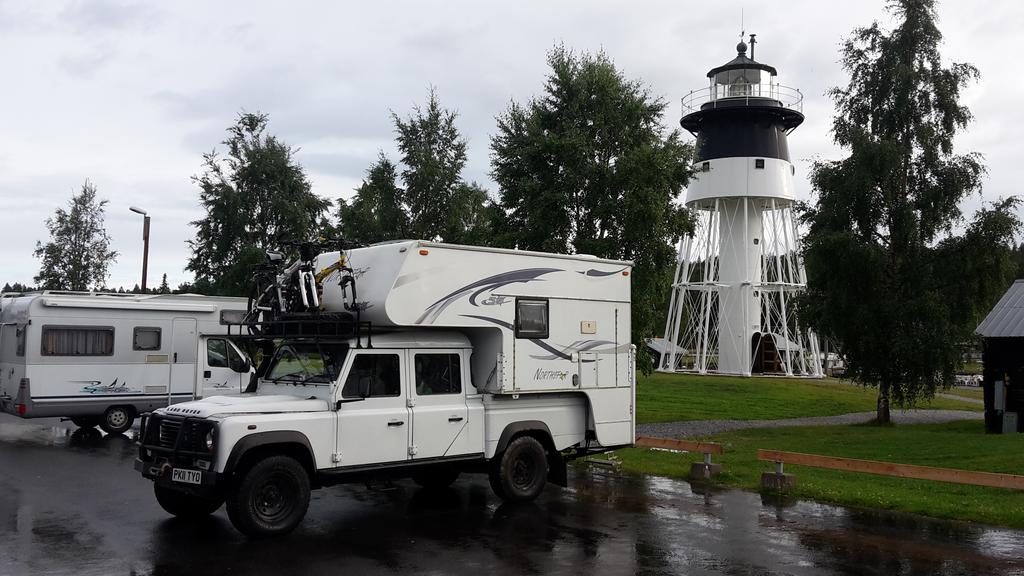 Javri aire
After a few more miles on the E4 we turned away from the Baltic and onto the E10 towards Norway. The terrain was unchanged with lots, and lots, more trees. After many miles we came to a roadside sign that showed that we were crossing the Arctic Circle and a few miles further we entered Lapland. Shortly after that we saw our first group of reindeer at the side of the road.
We stopped for the night at a small camperstop near Kiruna at Jukkasjarvi. This small community is famous for being the location of the Ice Hotel giving guests a freezing experience during the winter months. When the snow and ice melt, however, the hotel doesn't look quite so impressive!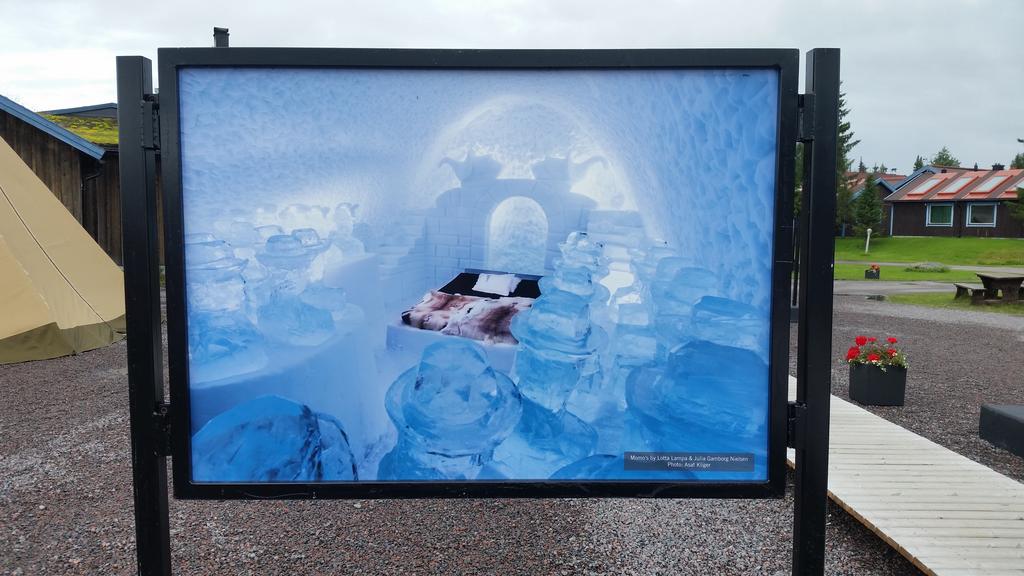 Ice hotel in Winter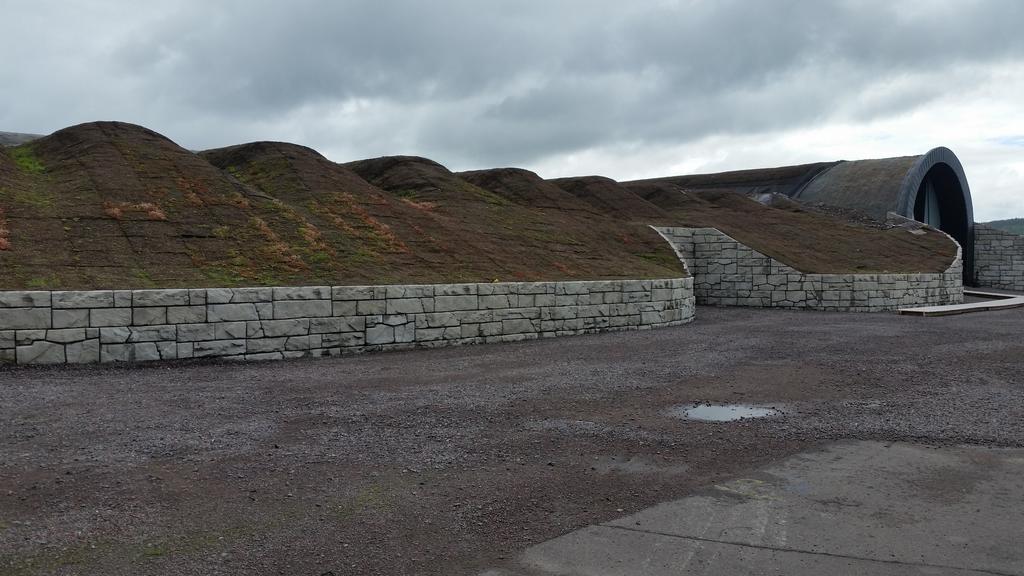 Ice hotel in summer!
Back on the E10 we eventually came to a large lake on the left called Tornetrask. We stopped for coffee and Anya and I had a walk along the edge of the lake where we found some curious huts on sledge runners. These are dragged out onto the lake when it's frozen by a snowmobile and are used as shelters by local fishermen who cut holes in the ice for their lines.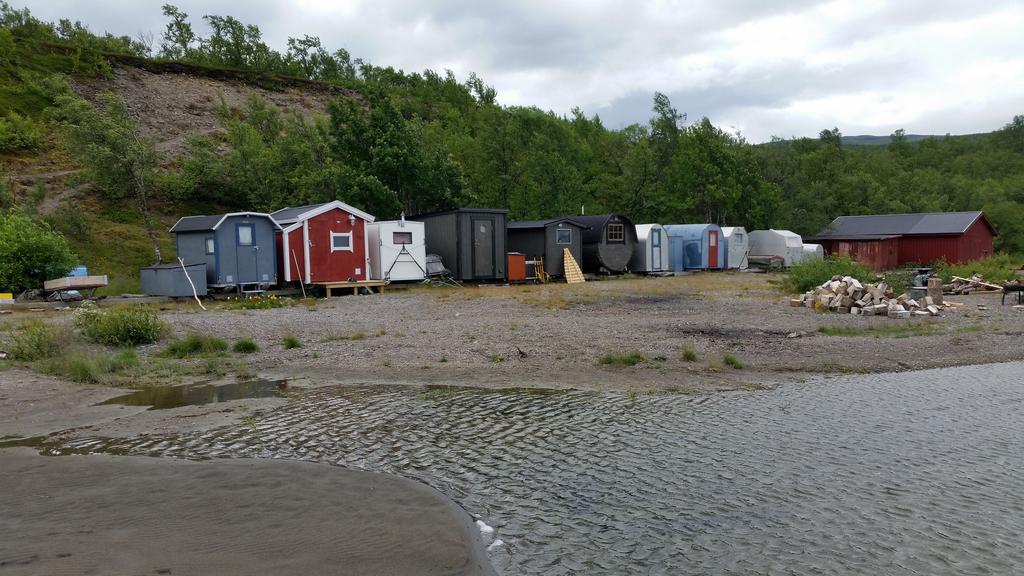 Tornetrask huts
After a few more miles the E10 turned away from Tornetrask lake and started to climb until eventually we reached the Norwegian border at Riksgransen and, almost immediately, the bland landscapes were replaced with more interesting rocky visas. We descended down to Narvik for lunch and to refuel our LPG tank which we use for cooking and to power the fridge. We then backtracked and headed north to Nordkjosbotn for an overnight stop in a camper parking area.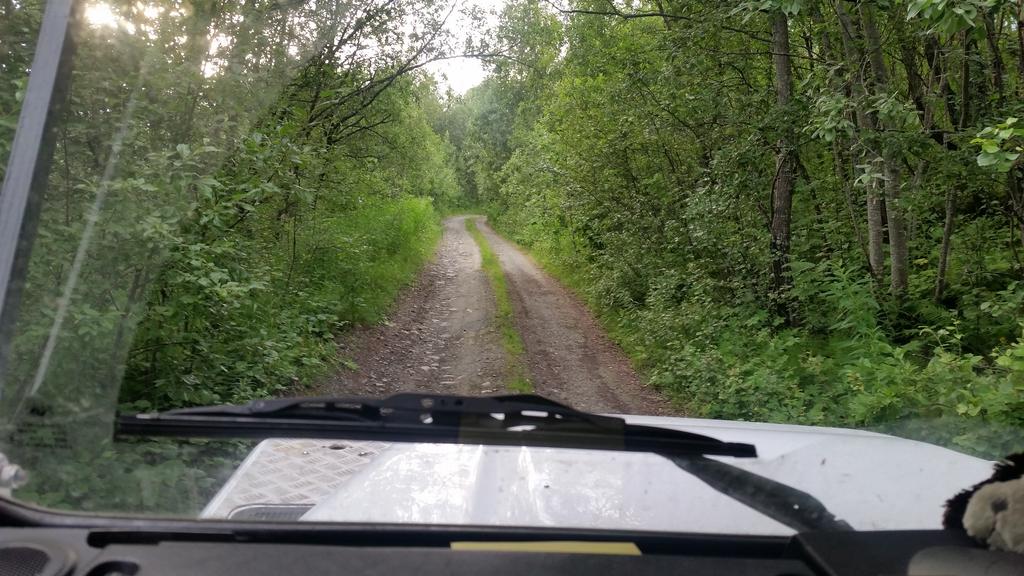 Green lane near Nordkjosbotn
The following day we suffered scenery overload as we wound our way along the coast and around fjords - it was a truly magical drive to Alta at the head of Altafjord.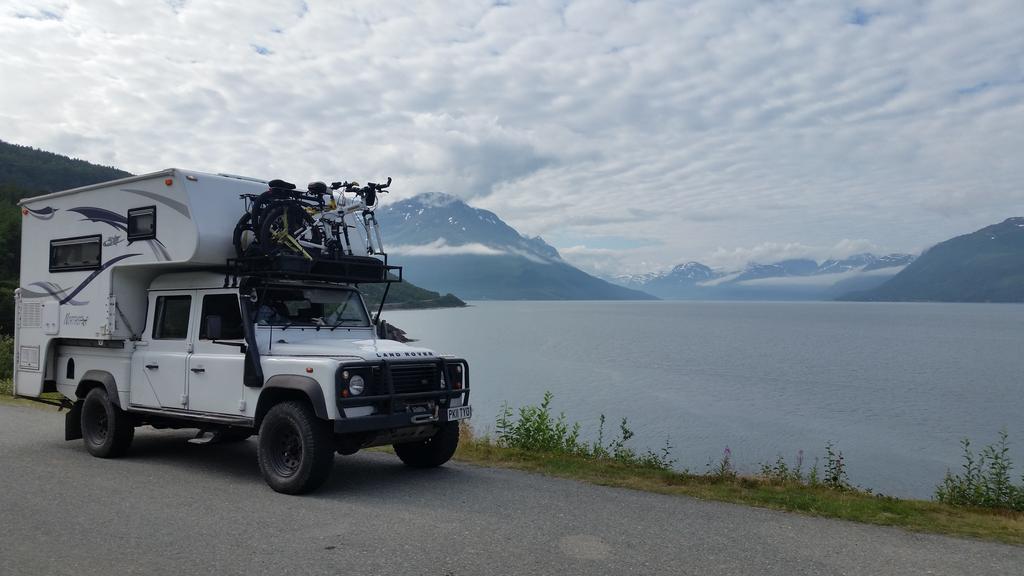 Lyngenfjord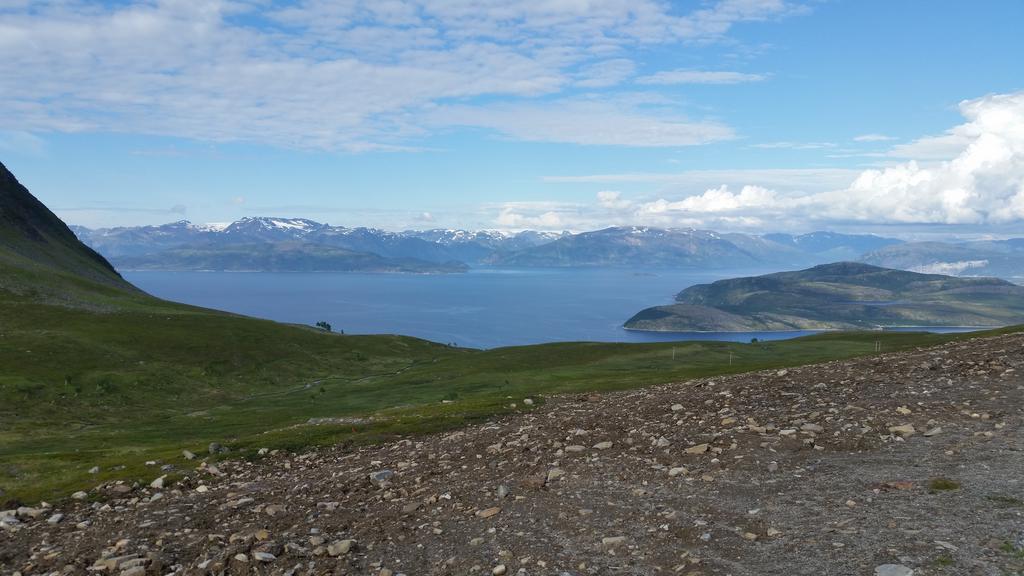 Kvaenangenfjord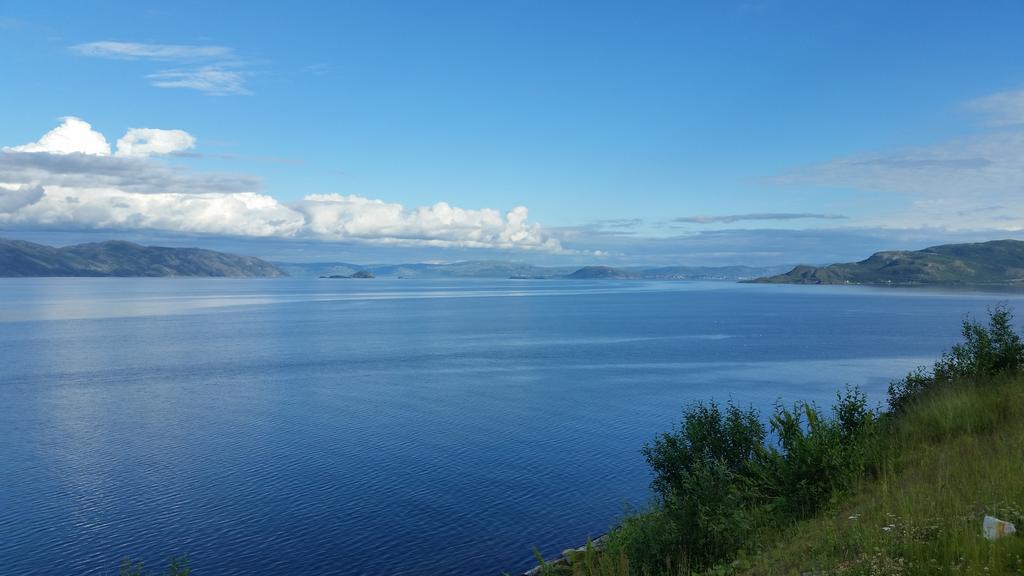 Altafjord
Our motorhome parking app showed that we could park in the museum car park where there were some impressive ancient rock paintings and also some awesome trails both along the fjord and up adjacent hills.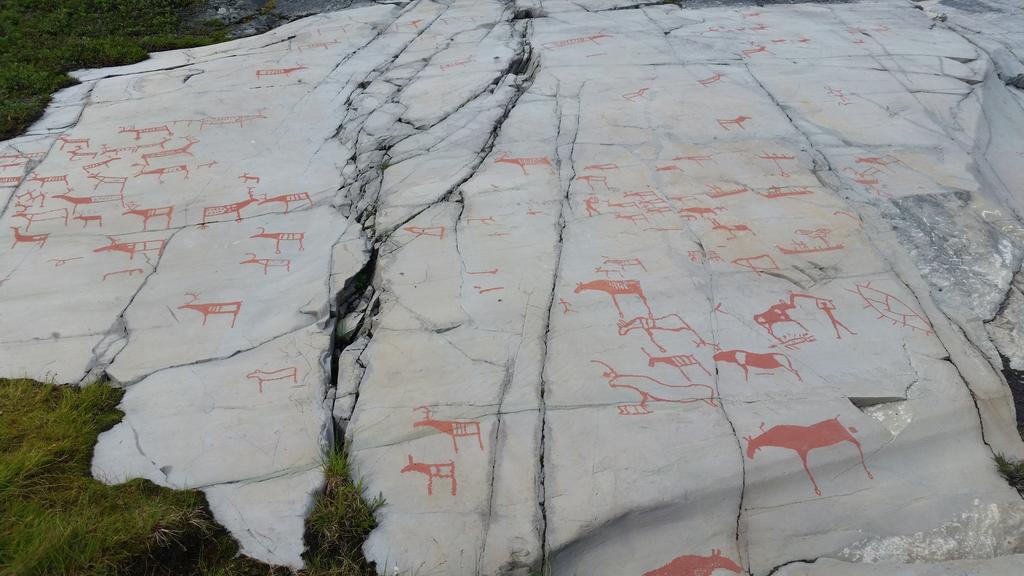 Alta rock paintings
The next day we travelled to Nordkapp. The route started from almost sea level but the road quickly rose onto a barren treeless plateau punctuated by small Sami camps where they were selling trinkets and reindeer goods from their herds – this made me rather uneasy as their previous simple lives of trading goods had been swept away by commercialism and the need for hard currency. Their camps were often scruffy old caravans and shacks and not the romantic nomadic tents we see on programmes about the Sami tribes on TV.
Things got much more interesting as we descended off the plateau towards the Arctic Coast at Olderfjord and then turned left with Nordkapp at last on the signposts. It felt we were nearly there but in reality there was still two hours and 80 miles to travel to our destination. The road to Nordkapp was only fully completed in 1999 and is a major feat of engineering. Much of it hugs the coastline with lovely views but major works were needed elsewhere. One tunnel replaced an arduous mountain track and a ferry crossing as it cut through the mountain and then under a fjord off the Arctic Ocean and it is, in fact, the third longest under sea tunnel in Europe. The last town on the route is Honningsvag where you can buy fuel and provisions, this is also where the cruise ships dock before their passengers are bused the final 23 miles for the Nordkapp experience. This last leg between Honningsvag and Nordkapp was the only place we actually saw any large herds of reindeer majestically roaming the plains.
As we approached the huge car park at Nordkapp we stopped at the toll booth and paid our £10 parking fee and £25 per head entrance fee. Considering the investment in the area this seemed really good value! We parked up next to three other Land Rover Defender campers, it's funny how we always seem to congregate together. When we got out of the cab it was blowing a full gale and, despite it being about 11 degrees centigrade , the windchill made it feel sub-zero so, for the first time since leaving the UK, we had to put on coats to explore the wild 1000 foot high headland at the northern tip of Europe.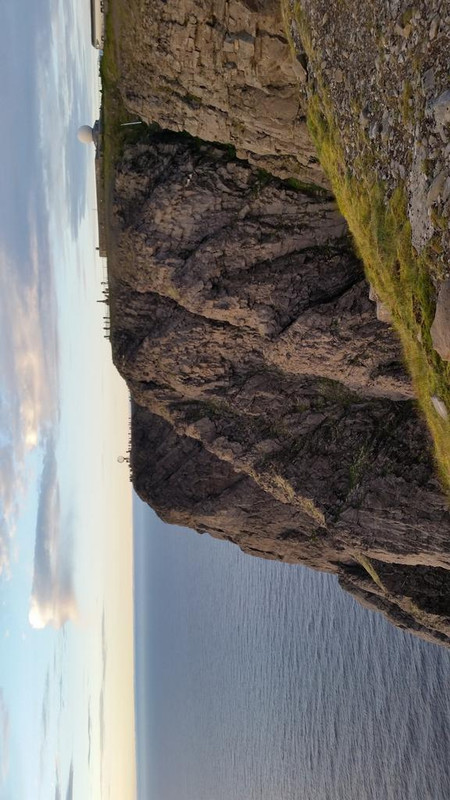 Nordkapp cliffs
We put Anya back in the camper whilst we looked round the impressive visitor centre which has coffee shops, a restaurant, gift shop, post office and a couple of audio visual attractions. As we were to spend the night in the carpark I repositioned the camper to reduce wind buffeting but no matter how I parked it wasn't going to be a quiet night!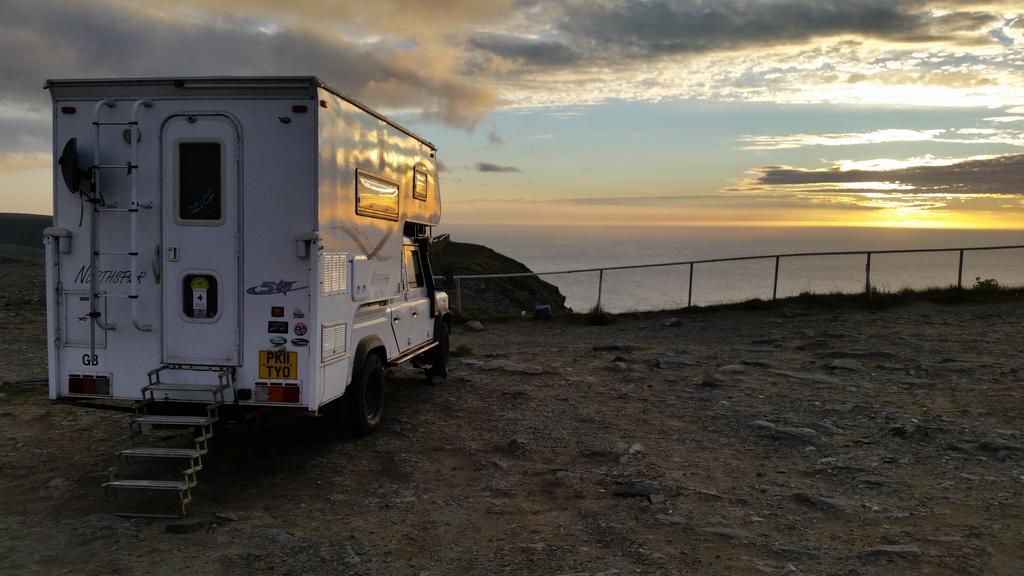 Nordkapp sunset
After feeding Anya we went back into the visitor centre for dinner in the restaurant – I had reindeer stew. Then it was back to the camper to wait for midnight when I ventured out into the wild conditions with Anya to take photos in almost full daylight – its true that I could have easily read a newspaper but it would have been difficult to keep the pages from blowing away!
Although everywhere north of the Arctic Circle is classified as the "land of the midnight sun" our visit was midway between the Summer Solstice and Autumnal Equinox which meant that even as far north as Nordkapp (71o 10.3' N) there was a sunset at 10pm and a sunrise at 2am. It stayed twilight between these times but it must be even more incredible when the sun doesn't set at all which we missed by only about five days.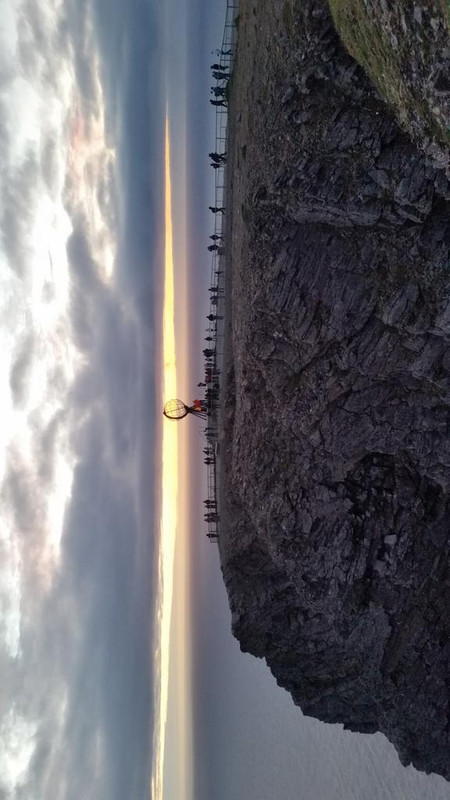 Midnight at Nordkapp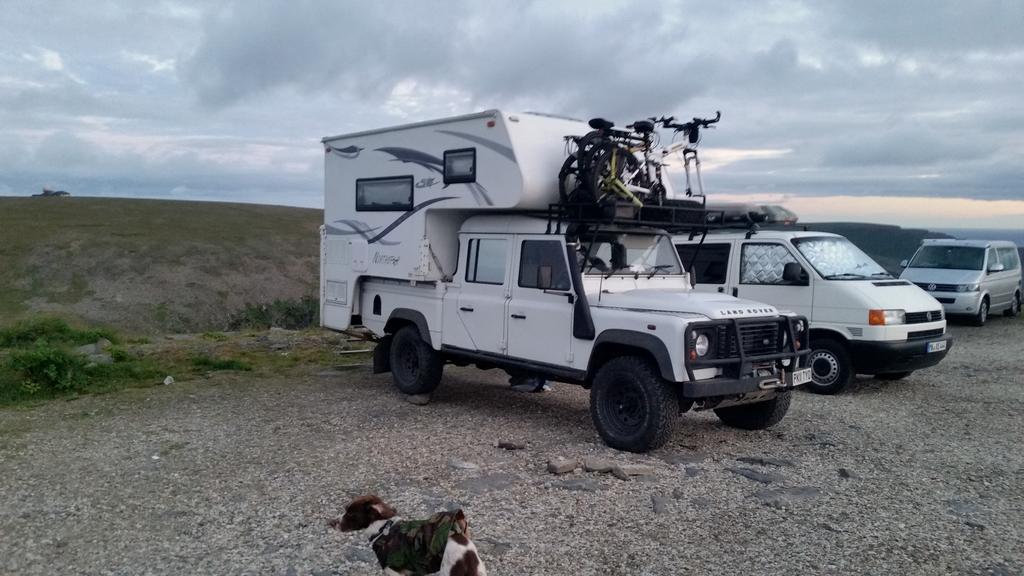 Midnight at Nordkapp
It had been a very long drive in the Defender but it would have been much harder for the large number of motorbikers that had also made the trip from all over Europe. These motorised forms of transport, however, had it very easy compared to the pushbikers, some of whom had made a three month journey all the way from the southern tip of Spain. Due to the remote location the pushbike riders had no option but to stay at Nordkapp for the night and had to use rocks to weigh down their tent flysheets to stop them from blowing away.
After our wind buffeted night Jan couldn't wait to leave this barren place and head south to less exposed terrain.
Our trip south from Nordkapp was to be down the eastern side of the Baltic. We had originally planned to enter Russia and visit St Petersburg and Moscow but visa issues, and also the requirement for a special dog passport in Russian for Anya, made it just too much of a hassle.
We initially retraced our steps for 80 miles to Olderfjord and then followed the side of the Arctic Ocean for a further 40 miles before turning south and crossing into our eighth country at Karigasniemi to head down through Finland. Here we filled up with diesel at a price far cheaper than it had been in expensive Norway.
The terrain was initially very similar to Sweden but after our first night wildcamp south of Ivalo it got worse! Not only were there the unending trees but the roads were dead straight for miles then there would be a bend and then another really long straight. Views to each side of the road were limited and you really couldn't see the wood for the trees. When we crossed back over the Arctic Circle near Rovaniemi there was a theme park – Santa Claus World, sadly this was the most interesting thing we'd seen for many miles!
We arrived back on the Baltic coast and spent our next night at a campsite on an island at Li north of Oulu. Then it was more of the same, mile after mile of trees as we headed down to our next camperstop near Korpilahti at the side of a lake. Next day we pressed on again to Helsinki where I arranged a fast ferry crossing for later in the afternoon to Tallinn in Estonia.
The ship was new for the 2017 season and called the Megastar, she was well named as it was the quietest, smoothest and fastest (at 27 knots) conventional ferry I've ever been on. It was powered by Liquid Natural Gas, and it was a speedy two-hour crossing. Jan too liked the ship which had the largest and best laid out retail shop we've ever seen on a ferry.
On leaving the ferry we headed into Tallinn, the capital city of Estonia, and found a 12 Euro for 24 hour secure car park alongside the cities ancient walls. Tallinn was a real surprise, beautiful architecture, plentiful restaurants and a real tourist hotspot. We walked the walls with Anya before finding a nice place for dinner and heading back to the camper for the night.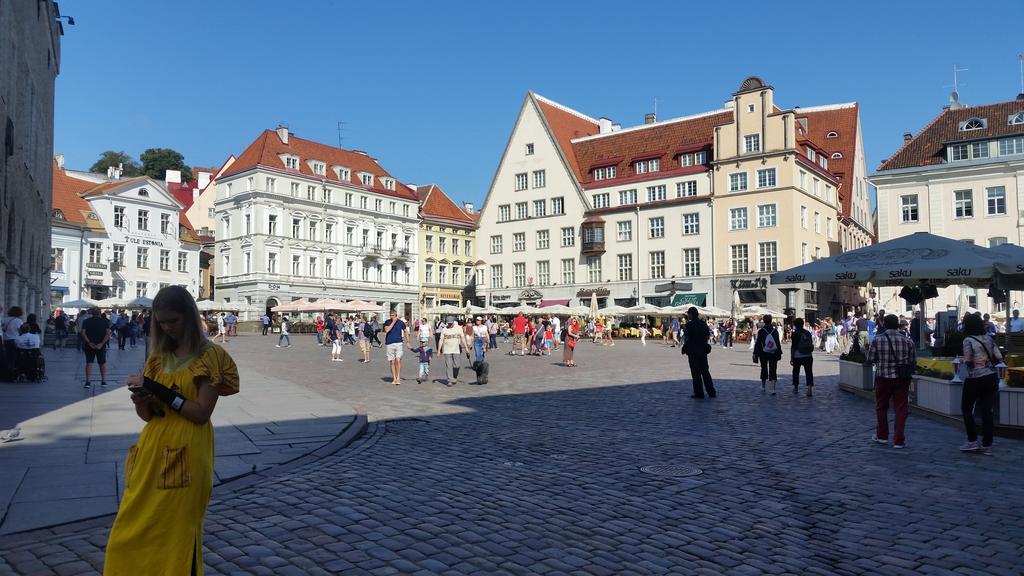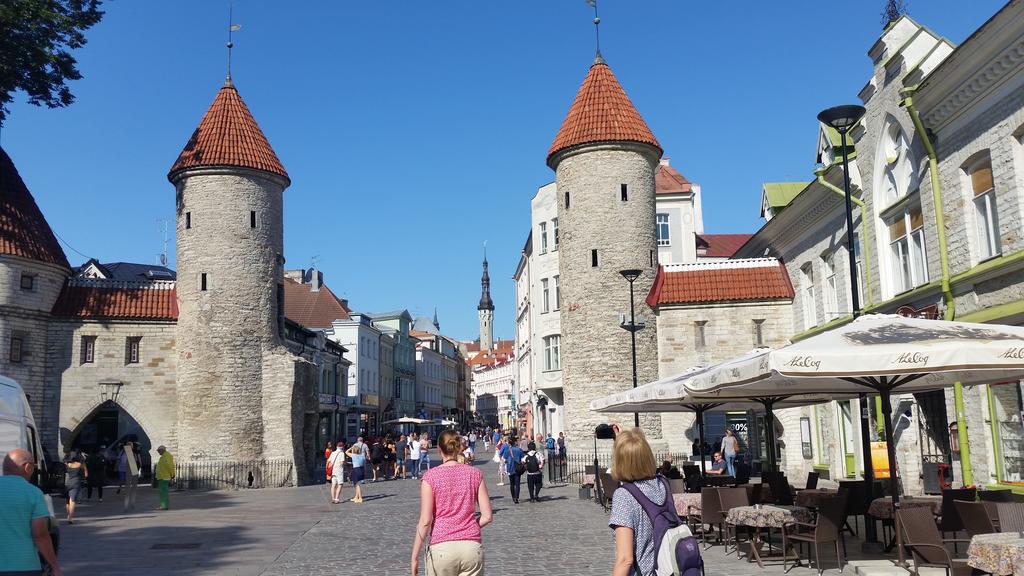 Beautiful Tallinn
Next morning we went back into the town for another smooch around then headed 60 miles to the seaside resort town of Haapsalu on the west coast.
There is a huge railway museum here with massive Russian built engines but our focus was on walking round the coastline and town, and exploring the interesting castle. Again the architecture surprised us as there were both traditional timber built houses and also very modern contemporary properties all along the coastline.
Haapsalu sunset
Next day we first headed south to Virtsu and found an interesting track which terminated at an old lighthouse where we stopped for lunch.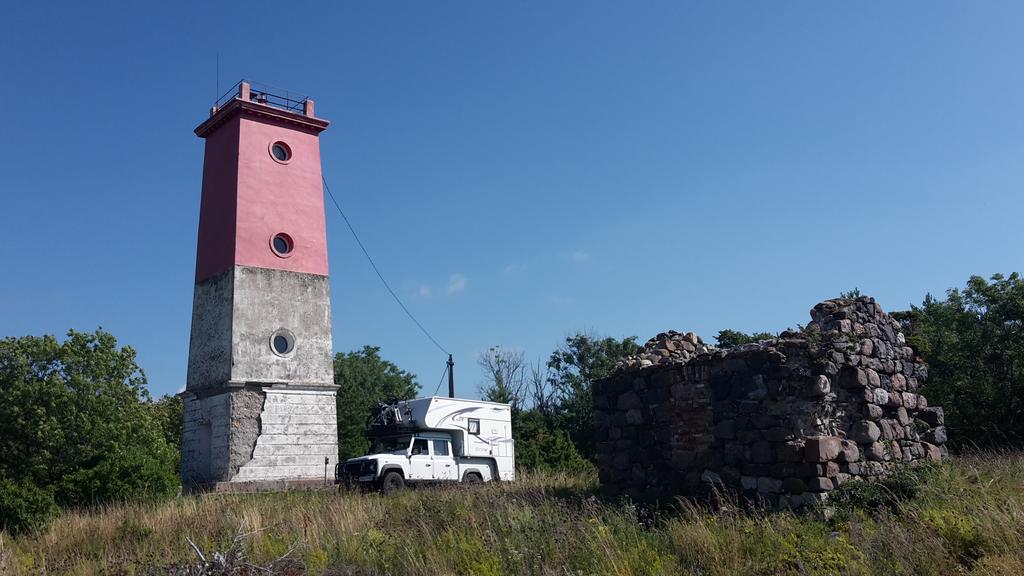 Virtsu lighthouse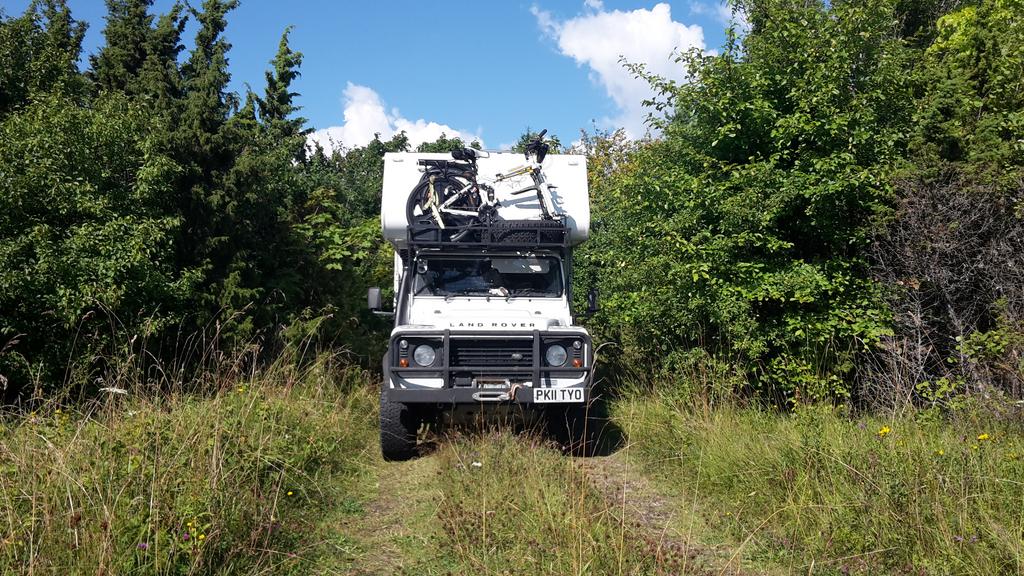 Virtsu green lane
We then headed to the town of Parnu to a camperstop located next to the harbour for the night. We ate at the yacht club and it was very interesting looking at an ice yacht which they race in winter when the river freezes over. That night we had an amazing storm with high winds and rain, but also a most stunning sunset!
We left Parnu and headed east to the winter resort of Otepaa for lunch where we had a lovely walk around the Puhajarv lake. Then it was south again crossing the border into Latvia, first to the beach resort of Saulkrasti, where unfortunately they had suffered a lot of damage in the storm the previous evening. The beach at Sailkrasti could have been on a Caribbean island – it was just perfect!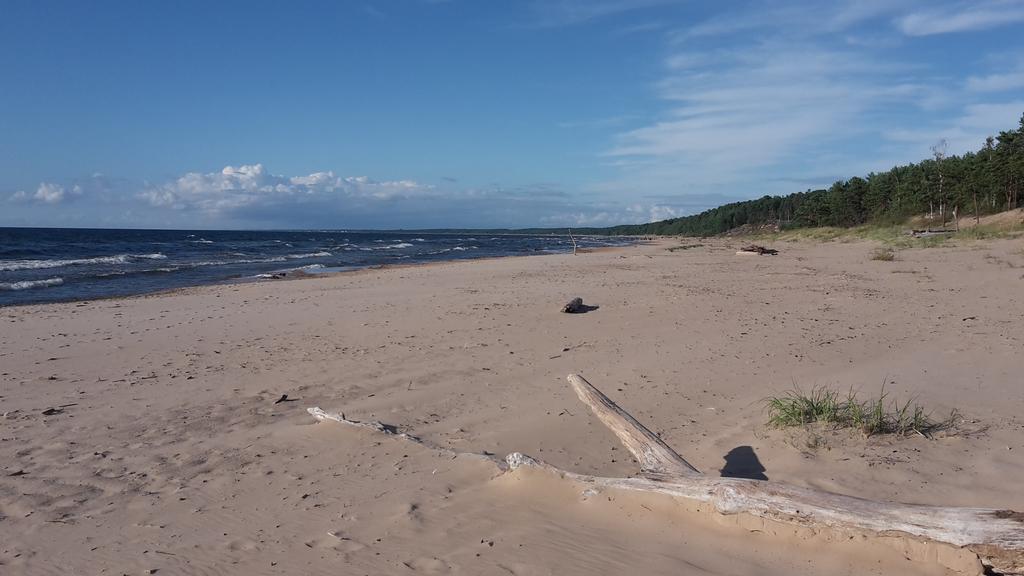 Saulrasti beach
We moved on further south to a camperstop at a marina in Riga for the night.
The next day we crossed into Lithuania where we saw our first British registered car for seven days, and only our third in the last 14 days, there's certainly not many Brits venturing this far north in their own vehicles. We stopped for the night at a motorhome site in Kaunas which allow us to do the laundry and other domestic tasks.
The following day we made a detour from the direct route turning onto the E7 at Marijampole towards the Russian exclave of Kaliningrad. In Kybartai we turned south off the E7 onto the 186 which runs roughly parallel to the border.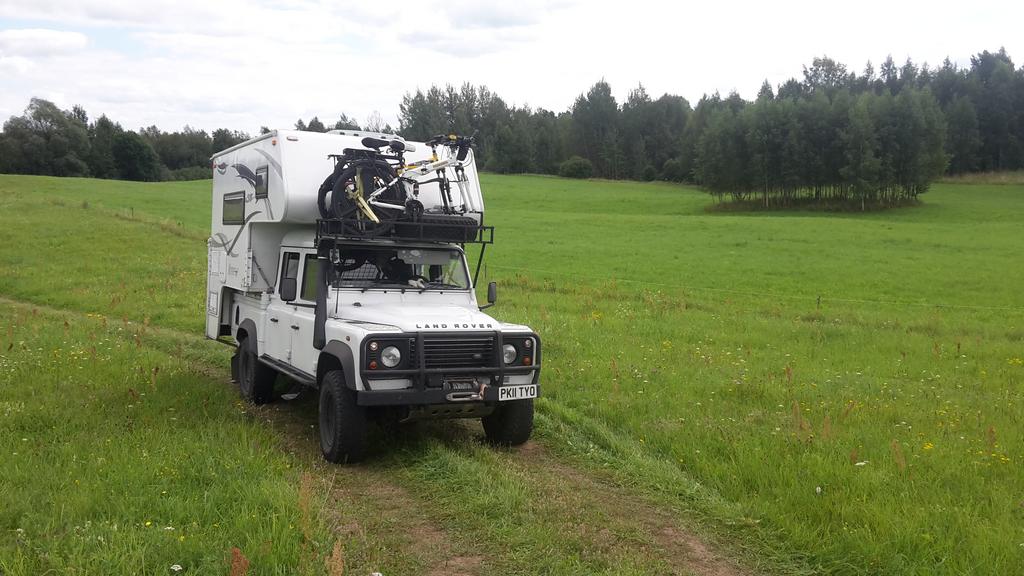 Lithuania green lane
At one point the border is less than 100 feet from the road and here we stopped for lunch in a national park car park. While Jan prepared lunch Anya and I did some exploring but I wont admit to another country being visited! We returned to the main road and soon crossed the border into Poland. We stopped for the night in a quiet car park near a river just outside the town of Lomza. There was a lovely walk along the river side for Anya to stretch her legs.
We had intended to visit Warsaw but the traffic in the area was horrendous, we moved just two miles in an hour on the main route in. We, therefore, accessed the ring road and stopped for lunch in a service station before pressing on towards Wroclaw. We stopped for the night at a car park in the town of Olesnica where we found a nice park with ducks and lake, which resulted in one very wet dog!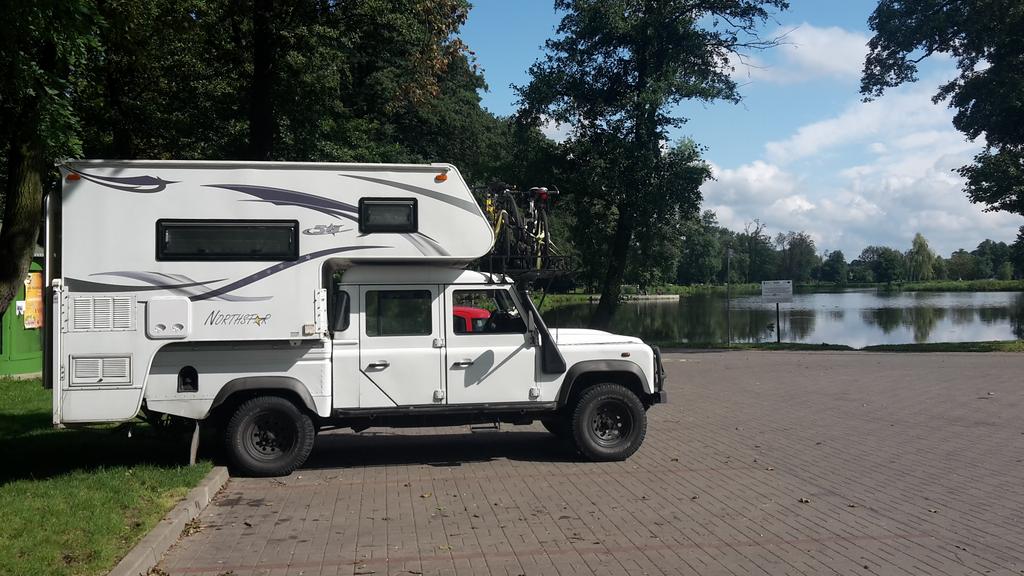 Olesnica wild camp
The next day we revisited an area we had last been to 15 years before as we took the back roads through beautiful scenery along the Poland and Czech Republic border to the town of Liberec in the Czech Republic. Our goal was Hotel Jested where we had stayed all those years ago. It is the most amazing place situated at the very top of a pointy mountain peak with the access road literally spiralling up to the peak.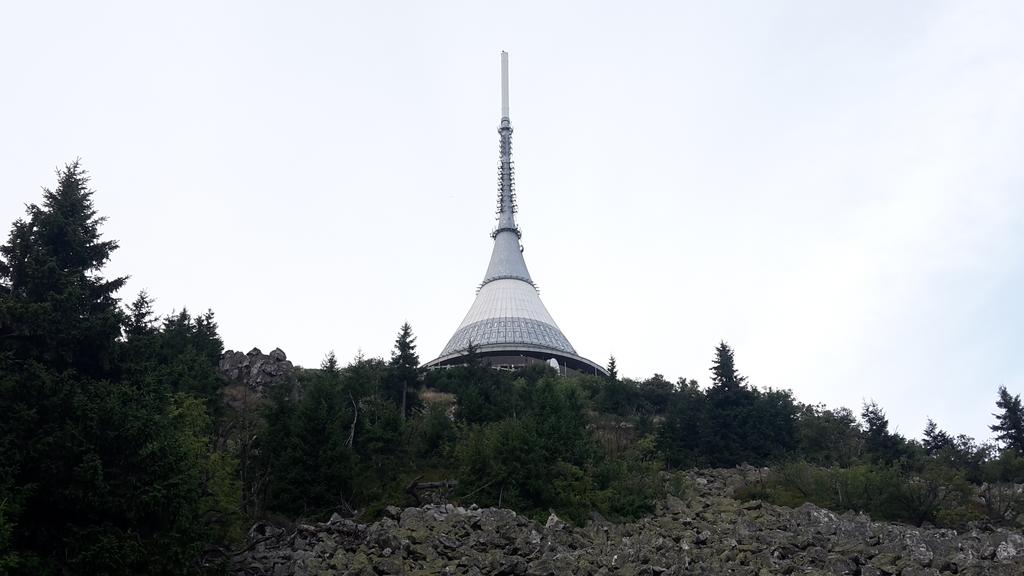 Awesome Hotel Jested
After climbing up to the hotel via a steep path we descended the access road again to search for somewhere we could stop for the night which we found in a car park on the slopes of Jested mountain. In the evening we returned to the top for a meal in the hotel restaurant.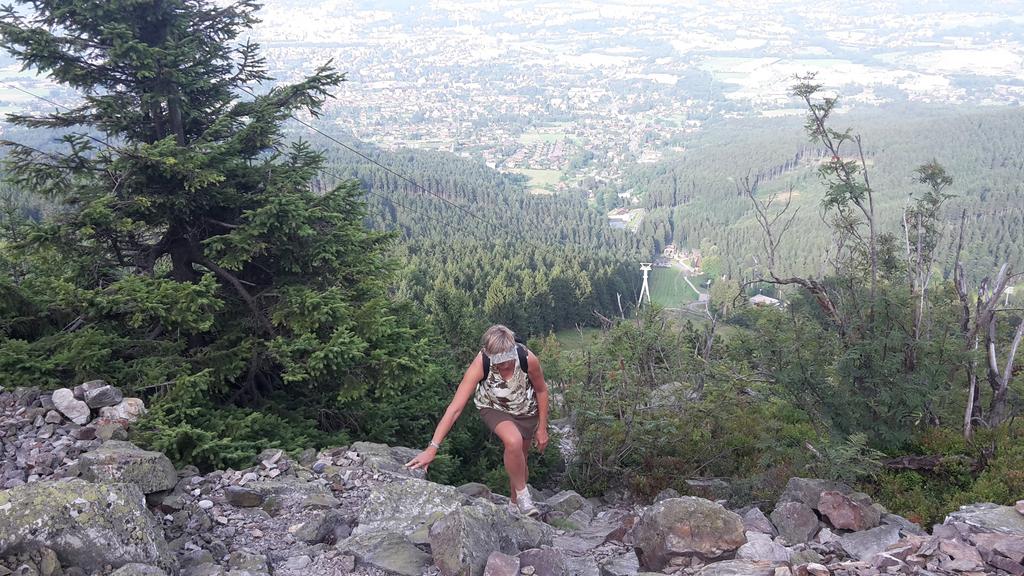 Jan on the climb up to the hotel
Next morning after some retail therapy in the Liberec shopping mall we again avoided the main roads and wound our way towards historic Dresden in Germany. Roadworks near Decin revealed a real treat as the diversion route went past the amazing sandstone rock formations near Tisa.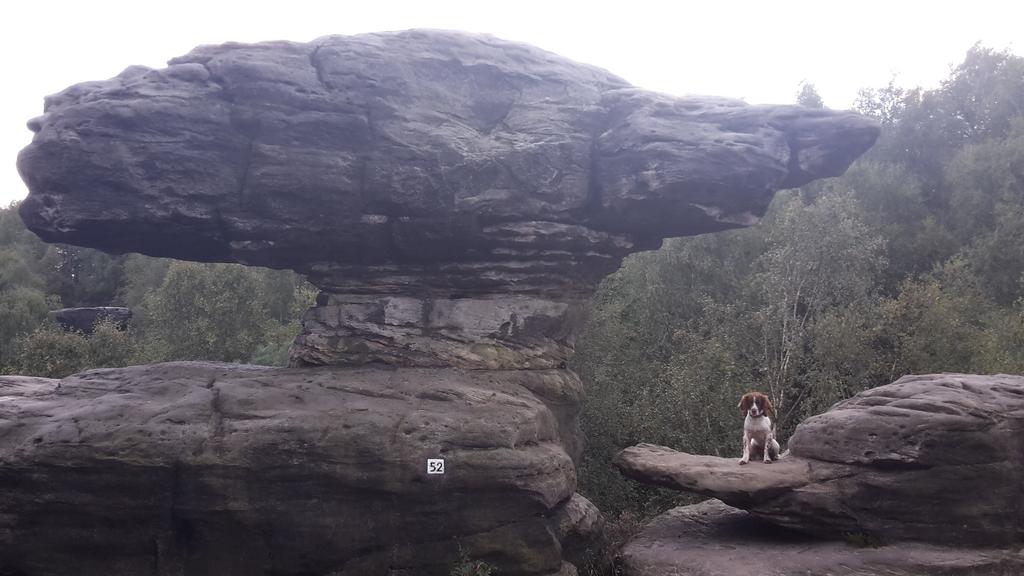 Tisa sandstone escarpment
As we neared the German border we went through the tacky town of Petrovice where multiple outlets were selling cheap consumer goods and bottled water. We stopped that night in a camperstop in Bad Gottleuba.
We really wanted to go into Dresden for a look around the historic town but we knew parking may be a problem for our big rig, especially as it was during a weekend. I put the tourist information office in the satnav and followed the route into the city. We passed a surface car park but we were not allowed in as it was reserved for market traders, most other car parks we passed were underground with a height limit of 2.1 metres. We kept on following the satnav which seemed to be taking us into the old town along what appeared to be pedestrianised streets with many people milling around. I then realised we were actually driving past many of the tourist sights such as the Frauenkirche that we had wanted to see, there was still the odd other vehicle around but we felt rather out of place amongst all the walking tour groups. I eventually decided I'd better turn around and retrace our steps so did a three point turn next to the Furstenzug porcelain mosaic! Many people were taking photographs of our rig as we passed through them which was quite funny.
Leaving Dresden we stayed on the autobahn for a while before turning onto secondary roads to our next camperstop in a car park on the outskirts of Saalfeld. Again we had great dog-walking straight from our door and the lovely town was just a ten minute hike away.
The next day we almost managed to avoid the autobahns altogether as we headed further west. Our research had located a camperstop at Hilchenbach near a large reservoir. The stop itself wasn't that impressive behind a sports centre but it was nice and quiet as we were the only vehicle there. Next morning we drove up to the reservoir and had a nice 4 mile walk around the tarmac perimeter road.
Unfortunately the next day was amost entirely on the autobahns as we travelled past Cologne towards Brussels to meet up with some friends who now live and work in the city.
To permit Anya to be repatriated into the UK she has to visit a vet between 5 days and 1 day before she arrives back on British soil for a health check. This we did in Brussels before having lunch with our friends and setting off back into France in preparation for the last leg home.
We stopped for the night back in Bergues where we had spent our first night on continental europe almost five weeks before. We had, therefore, completed our circumnavigation of the Baltic but in reality we still had about 250 miles to go before we would arrive home.
A "friend" at the Bergues aire
Next morning we had the short trip to the Calais end of the Channel Tunnel and, as usual, an easy run on the shuttle train under the English Channel. We drove along the south coast stopping at Shoreham Airfield for afternoon tea and arrived home at 8pm.
In five weeks we had visited 13 different countries, crossed 18 international borders, travelled 6553 miles and averaged 24.5mpg - it had been a very long but successful trip! The eastern european countries that we'd visited had been a very pleasent surprise and we'll definitely be heading that way again.
We saw surprisingly few truck camers on this trip and most of those we did see were hardside pop-tops on German registration plates. In the car park at Nordkapp there were loads of normal motorhomes but there was just one other truck camper, a Swiss Toyota Hilux with a non-demountable camper unit.
Our truck camper performed faultlessly as usual and certainly makes a very comfortable, if bijou, home from home. Despite only having a 2.4 litre diesel engine the Defender's 160bhp is adequate for the Northstar 700DL (european spec) even when the camper is fully loaded for long trips and when there are big hills to climb.
I made two modifications to the camper for this trip. Firstly, a refillable LPG gas tank instead of bottled gas, with adaptors so that I can refill it in any country where I can buy LPG gas. Secondly, the original gas powered warm air and hot water heaters have been replaced with a full diesel powered (from the vehicle's fuel tank) central heating system with radiators, heated towel rail and hot water cylinder.