Greetings from Gary at SBS
Posted:
March 29th, 2015, 1:07 am
If you've been around a very long time you might remember me as the young man who brought Tischer to the UK in the 80s, well I was young then! In more recent times we've been producing our own expedition spec campers which we've been selling alongside the fabulous Winner yachts we import from Holland. We've recently stopped producing our own vans and now import a wide range of demountables to meet all budgets and all needs starting from just £13,450, including VAT and a nice usable spec. Check out
http://www.sbsadventurecampers.com
for more info.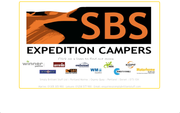 Kindest regards
Gary
simplybrilliantstuff.com