2005 Mitsubishi L200 Single Cab 4x2
Unknown Demountable
---
Site Admin
Posts: 12029
Joined: September 8th, 2013, 3:30 pm
Location: Tooooo far from the coast!
Last I saw they were at at 128 pounds, still a good price for set though
---
Did anyone here buy them ?
---
Posts: 282
Joined: June 5th, 2017, 7:31 pm
Location: East Northamptonshire
I would have liked to, but was away at the time of sale
"Success consists of going from failure to failure without loss of enthusiasm" .......(Winston Churchill)

2007 Ford Ranger "Thunder" 4x4
Camper aedificavit domum
---
It was the first time in seven years of De-mountable ownership i've seen a set of four legs come up for sale, hence i thought i should post it on the Forum.
Odd thing to me was they came off a De-mountable the seller had sold previously. Maybe these were a spare set?
Mike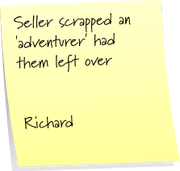 2005 Mitsubishi L200 Single Cab 4x2
Unknown Demountable
---