As promised i'd like to show you my modification of the bed in my Nordstar, I'm a little tall and it was not funny to sleep in a bed of about 2m...
So first a big thank you and a big hand for the great idea of ​​Karin and Helmut, without which the whole thing would not have happened! it needs no support really, the construction is also not designed for the one it sits on the 'drawers' but nevertheless I'm consider a small support to clamp underneath.
The 'drawers' themselves are resilient up to 140 kg, the weak point is the connection to the bed floor. which consists in the Nord Star from (I guess) 4-6mm "thick" sheet of plywood. There you will find screws, of course no support. That is why you should additionally glue the strips with glue.
Between the support of the slatted base and the bed floor are standard 4 cm square. That is not enough to support the weight used. Therefore, the front support has been increased by one centimeter, but you'd never notice while lying down.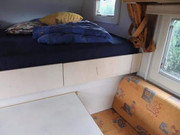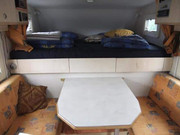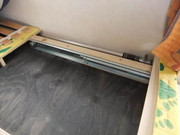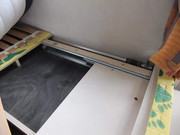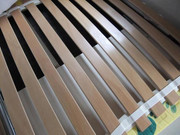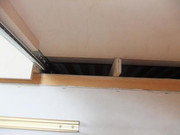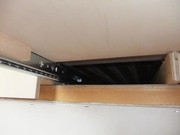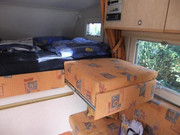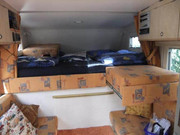 A few dimensions: The
store ?
can be off 57 cm and 60 cm wide. The distance from the outer wall is about 8 cm, around 60 cm remain between the store thus left, over which one can easily climb into bed. I'll probably still attach a little kick as an intermediate.
The height of the pillow you have to individually measure in order to get on a level with the mattress. We have, for example, an Ikea mattress, so that we arrive at a pad thickness of ~ 16 cm. The foam we bought in the hobby market, but have then found that we would come off cheaper if we had brought us the cheapest mattress from the Swedish furniture store and they had then placed in several layers one above the other. (Foam can be wonderfully cut with a band saw by the way, I would not have thought) The fabric finish was Beate, tailored from the original Nordstar furnishings we still have, just like the lining of the front panel. This we have padded with a fleece over the boards and stapled from behind.
I send the pictures to Richard, hoping he will edit them ...
Sorry for hold up folks, technical difficulty (typical)