Three weeks into the project but finally over the weekend finished the last of the twelve panels that make up the framework of our newest camper.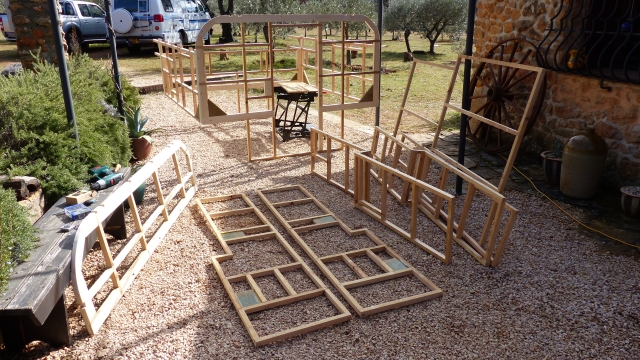 At the moment we're living with them stacked up in the house ...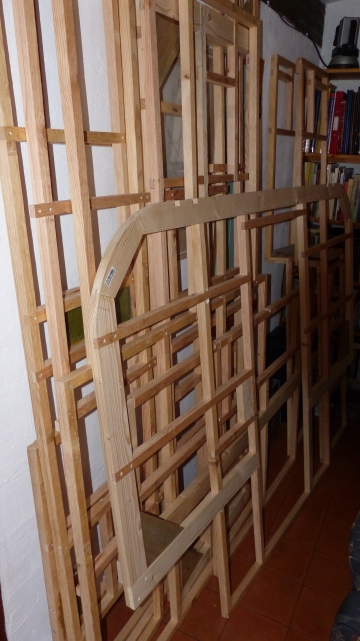 ... because once they're fitted together it (and I) will be stuck outside 'til it's finished (and goodness knows how long that might take) but I couldn't resist having a play today and temporarily fitting a few bits together to see how it looked.
When they're all put together it will look like this: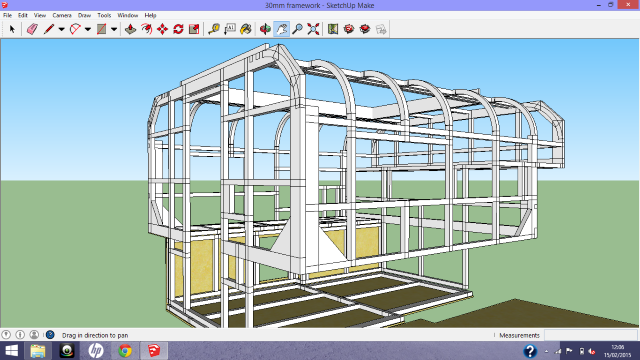 What I'm building is a pop-top, but a hard-sided and fully-insulated pop-top (we like to be able to camp all year) that borrows inspiration from
Alaskan campers
(I've always loved them but they are seriously big and heavy),
Tonke campers
(very expensive but I do like their wood finish and for a long time was going to go for that myself) and the
Paul Butler camper
(I was almost tempted to buy a set of his plans but figured it couldn't be that difficult and have since read some very disparaging comments about them and so am glad that I didn't). Instead I downloaded SketchUp (just amazingly powerful for a freebie) and started trying to sort out some ideas of my own.
The basic principles of the camper were that it had to:
- be a pop-top but sufficiently insulated to be usable all year.
- be usable if required, either for security of for extra warmth, with the roof down.
- be predominantly constructed of wood - its warm, flexible and the only material I'm confident of working in.
- fit the pickup without having to remove its tailgate.
- carry its weight as low and as far forward as possible.
- have a maximum dimension of 2400mm (8ft) in order to minimise joints in the skin. I know larger sheets of material are available but they're costly to transport and, for me, difficult to work with.
Eventually, I hope, it will look something like this: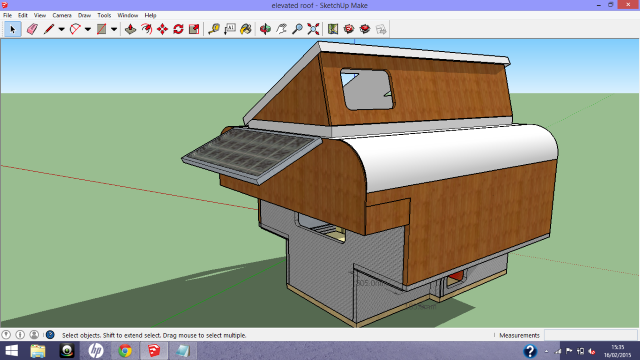 (I'm playing around with the idea of having a hinged solar panel on the front of the camper. It'd keep the weight off the elevating roof and, when on the pickup, could be angled to deflect the wind over the top of the camper.) I've ummed and arghed a lot about the skin and the finish swinging between aluminium, GRP and, as mentioned above, yacht-varnished wood but I'm now inclined towards epoxyed ply and a two-part polyurethane paint finish: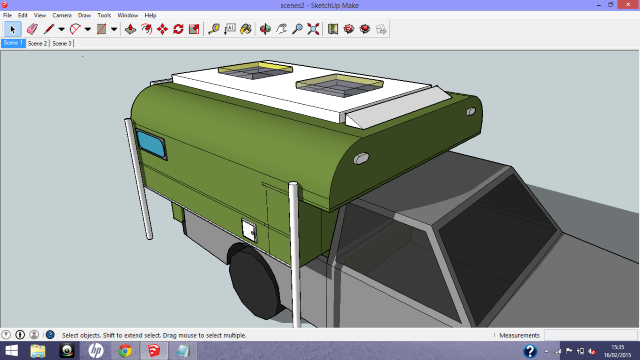 Anybody got any useful experience with two-part polyurethane deck paints? I gather they can be difficult unless conditions are perfect.